"...special vans...or other remedies..."
This letter, sent by Walter Rauff on March 26, 1942, describes the need for "special vans" (Sonderwagen) for the Mauthausen concentration camp. The meaning of this code word is made clear by the reference, in the final paragraph, to the substitution of bottled carbon monoxide until the vans are ready for use.
Bottled carbon monoxide was the method by which handicapped German citizens were gassed to death in the so-called "euthanasia" program. [1] In early 1942, it was still the preferred poison gas, Zyklon-B having only been tested six months earlier and not yet in common use anywhere.
Rauff was an SS-Obersturmbannführer (Lieutenant Colonel) whose name appears on other documents related to gas vans, e.g. as the recipient of the "97,000 have been processed" letter, sent two months after this one.
The description of poison gas as a "remedy" is the same remarkable word used to describe euthanasia-style gassings in another document, the Wetzel-Lohse letter (NO-365).

---

Translation:

1.) Note
to the
Criminal Technical Institute
at the Reich Criminal Police Office
Berlin.
In the attachment, I refer back to the procedure of the garrison doctor at concentration camp Mauthausen.
The special vans manufactured by us are at this time in operation pursuant to the order of the Chief of the Security Police and the SD. There are more vans under construction, whose delivery is however dependent upon the appropriate shipping orders being issued by the General Plenipotentiary for Vehicles [GEK]. At what point in time the GEK will confirm the state of preparedness is not known, and, after that happens, one must further factor in a rebuilding period of around 8 - 14 days that will be necessary. At that point in time, I would be prepared to put a special van of that kind at the disposal of the Mauthausen concentration camp for a specified time. At the given time, I will let you know as soon as the van can be deployed.
Since I assume that the Mauthausen concentration camp cannot wait indefinitely for the delivery, I request that you use steel bottles with carbon monoxide or respectively other remedies to get things started.
2.) II D 3 a - Major Pradel - for information and Wvl. for the completion of new special vans.
by order of

Rauff

---

Transcription:

1.) Schreiben
An das
krim. tech. Institut
beim Reichskriminalpolizeiamt
Berlin.
In der Anlage reiche ich den Vorgang des Standortarztes K.L. Mauthausen zurück.
Die von uns gefertigten Sonderwagen sind z.Zt. alle gemäss Befehl des Chefs der Sicherheitspolizei und des SD im Einsatz. Es sind weitere Wagen in Beschaffung, deren Lieferung aber abhängig ist von der Zurverfügungstellung der Fahrgestellte durch den Generalbevollmächigten für das Kraftfahrwesen. Zu welchem Zeitpunkt die Bereitstellung durch den GEK erfolgt, lässt sich noch nicht sagen und es ist ferner damit zu rechnen, dass nach Bereitstellung noch eine Umbauzeit von ca. 8 - 14 Tagen für die einzelnen Wagen benötigt wird. Nach diesem Zeitpunkt wäre ich bereit, dem K.L. Mauthausen für eine bestimmte Zeit einen derartigen Sonderwagen zur Verfügung zu stellen. Zur gegebenen Zeit werde ich Sie unterrichten, sobald der Wagen einsatzfähig ist.
Da ich annehme, dass das K.L. Mauthausen nicht unbestimmte Zeit bir [sic] zur Verfügungstellung warten kann, bitte ich die Beschaffung von Stahlflaschen mit Kohlenoxyd bzw. andere Hilfsmitteln zur Durchführung von dort aus in die Wege zu leiten.
2.) II D 3 a - Major Pradel - zur Kenntnis und Wvl. bei Fertigstellung neuer Sonderwagen.
I.A.

Rauff

---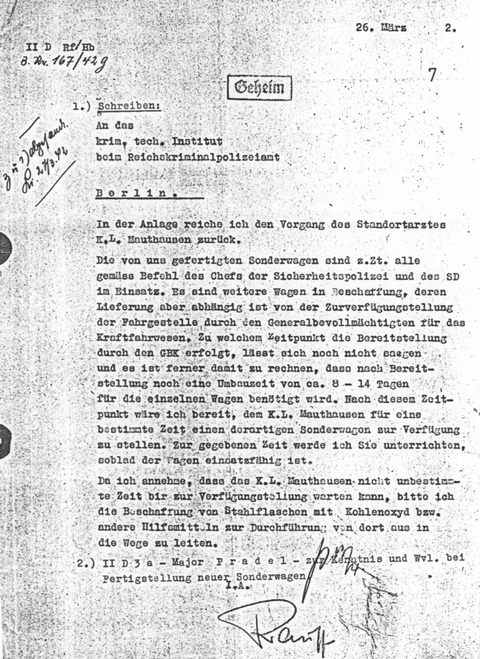 ---
Source: provided to Dr. Daniel Keren by the Bundesarchiv Koblenz.
The translation above is by Holocaust History Project volunteer Gord McFee.

Notes
1. See e.g. Friedlander, Henry, The Origins of Nazi Genocide, 1995, pp. 86ff, 300; Kogon, Eugen, Hermann Langbein, and Adalbert Rückerl, Nazi Mass Murder, 1993, pp. 27ff.