"Material for Special Treatment"
This document of August 26, 1942, gives permission to the Auschwitz concentration camp to send a truck to Dessau, in order to pick up "material for special treatment." Dessau was one of the two places where the poison Zyklon-B was manufactured. [1] Special treatment," or "Sonderbehandlung," was the Nazi code word for extermination.
Transcription:
Fahrgen. für einen LKW. nach Dessau zur Abholung von Material für Sonderbeh. wird hiermit erteilt.
Translation:
Permission for a truck to Dessau, to pick up material for special treatment, is hereby granted.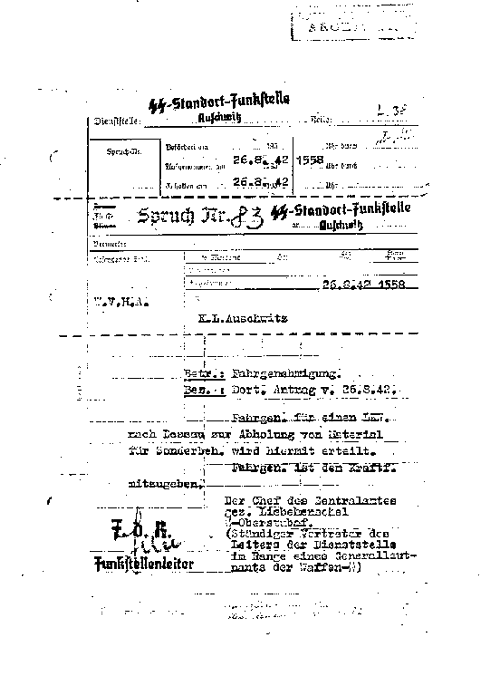 ---
The text of this document can be found in Raul Hilberg, Documents of Destruction, 1971, pp. 220-221. A reproduction can be found in Death Books From Auschwitz: Remnants, Vol. I, Appendix, 1995, p. 144.
This document is cited in the essay How Reliable are the Hoess Memoirs?

Notes
1. Hilberg, Raul, The Destruction of the European Jews, 1960, p. 568: "The Zyklon was produced by two companies: The Dessauer Werke and Kaliwerke at Kolin." In 1985 edition, p. 888.