Auschwitz Document
"revealing a state secret ... sentenced to death"
In this undated document (certainly from June or July of 1944), SS-Unterscharführer (Sergeant) Gottfried Weisse states that he has been informed about the conviction and execution of a woman for revealing state secrets, and that he has been formally reminded of the camp's strict secrecy policy. The camp's name: Auschwitz.
Transcription:
Uscha. Weisse Gottfried.

Ich wurde heute mit dem Schreiben des Chefs des SS-Wirtschafts- Verwaltungshauptamtes vom 29.6.44 über einen besonders krassen Fall der fahrlässigen Preisgabe eines Staatsgeheimnisses durch eine Fernschreiberin, die vom Volksgerichtshof zum Tode verurteilt wurde, bekanntgemacht und nochmals eingehend über die Geheimhaltung im Dienstbetrieb belehrt.
Translation:
Sergeant Weisse Gottfried.

Today, I was notified in writing by the chief of the SS Economic Administration Main Office on June 29, 1944, about an especially grossly negligent case of revealing a state secret, by a woman telegraph operator, who was sentenced to death by the people's court of law, and then I was again informed about the secrecy in service operation.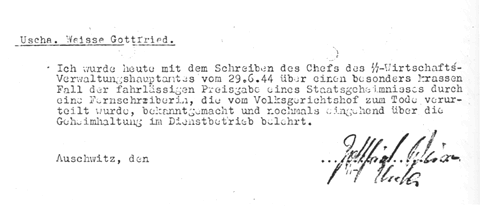 ---
This document is reproduced in Friedlander, Henry, and Sybil Milton, eds, Archives of the Holocaust, New York, 1989, Vol. 11, Part 2, p. 300. See also Gottfried Weisse's earlier declaration.
This document is cited in the essay How Reliable are the Hoess Memoirs?