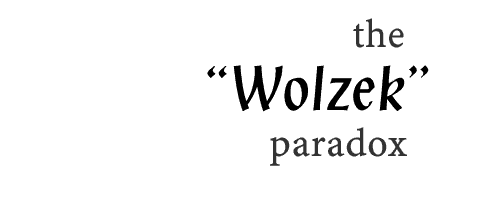 by



Jamie McCarthy
Holocaust-denial thrives on contradiction. Because it has no thesis of its own, striving merely to cast doubt upon the status quo, it is replete with anecdotes about trivial details which supposedly prove that someone is lying. Or just that something fishy is going on. These details can never be simple mistakes, but must invariably be part of a vast web of deceit; thus, any error in a document exposes that entire document as a forgery or a pack of lies.
Such is the case for the testimony of Rudolf Höß.
Höß (also spelled "Hoess") has long been attacked by deniers as totally untrustworthy. One of their most enduring claims has been based on his referencing the Operation Reinhard camps by the names of Belzec, Treblinka, and Wolzek. To be precise, his statement included this comment:
The "final solution" of the Jewish question meant the complete extermination of all Jews in Europe. I was ordered to establish extermination facilities at Auschwitz in June 1941. At that time, there were already in the General Government three other extermination camps: Belzek, Treblinka, and Wolzek. [1]
There are two errors in the above quote. The first is the date: Höß said 1941 when he meant 1942. [2]
The second error is that the last camp named, "Wolzek," does not exist, and never existed. And from this apparent contradiction, deniers rush to conclusions. The conclusion they prefer is that Höß was tortured, and that his whole confession, and his testimony, indeed everything Höß ever said or wrote, is wrong.
The Institute for Historical Review concludes:
[Hoess' confession] is actually a false statement that was obtained by torture. [...]

The Höss "affidavit" further alleges that Jews were already being exterminated by gas in the summer of 1941 at three other camps: Belzec, Treblinka and Wolzek. The "Wolzek" camp mentioned by Höss is a total invention. No such camp existed, and the name is no longer mentioned in Holocaust literature. [3]
Ernst Zundel's "Zundelsite" claims:
It is common knowledge that Hoess was severely tortured in order to obtain his "confession" and to make him write his "memoirs". I have discussed this elsewhere. As a result of the torture, Hoess came up with amazing details, such as a nonexistent camp "Wolzek", as well as other things which could not have possibly been taking place. [4]
David Irving makes the camp the subject of a pointed question in a letter to noted historian Robert-Jan Van Pelt:
What incidentally is your authority for confidently equating Höss's mysterious location "Wolzek" with "[Sobibor]" (page 279); as you know, Höss's "Wolzek" has long intrigued revisionists. [5]
We shall return to the Sobibor explanation in a moment.
Most outlandish of all is the claim of the denier Robert Faurisson. To even understand Faurisson's accusation, we must take a moment to examine Höß's situation in a little more detail.
Höß went into hiding and was discovered only in 1946. He was not tried at Nuremberg, but rather called to testify as a witness (for the defense, as it happened). His mention of the supposed "Wolzek" camp came during the Nuremberg process.
Later, Höß was himself tried, was convicted, and was sentenced to be hanged. As he sat in a Polish cell waiting for that sentence to be carried out, he wrote his memoirs. Those memoirs contain confirmation of all the essential facts of his previous confession, interrogation, and testimony at Nuremberg. Furthermore, they are written in a frank and open manner which was clearly not the result of coercion. For example, he insults Poles and Ukrainians, and complains that he was beaten at his arrest prior to being incarcerated at Nuremberg.
Faurisson's explanation of the revealing memoirs is that Höß was allowed to write honestly about being beaten during his earlier confinement - but for a surprising reason:
In his memoirs Hoess recounts the circumstances of his arrest and what followed. The treatment that he underwent was particularly brutal. At first sight it is surprising that the Poles allowed Hoess to make the revelations he did about the British military police. On reflection, we discover that they might have done so out of one or more of the following motives:

[...]

to furnish an explanation for certain absurdities contained in the text (NO-1210) that the British police had had Hoess sign, one of these absurdities being the invention of an "extermination camp" in a place which never existed on any Polish map: "Wolzek near Lublin"; confusion with Belzec is not possible since Hoess talks about three camps: "Belzek (sic), Tublinka (sic) and Wolzek near Lublin." [6]
In Faurisson's view, it is entirely possible that Höß was allowed, maybe encouraged [7] to write about his rough treatment - but not out of charity or respect for truth. Rather, the conspirators who engineered the hoax of the Holocaust knew that his accusations would allow future historians to explain away the Wolzek contradiction!