"Cremation with simultaneous Special Treatment"
This document of January 29, 1943 describes a problem with the equipment in the building known as Krema II.
The construction firm was trying to finish the extermination facilities on time but encountered many delays. Though he must have known it was wishful thinking, architect Karl Bischoff had hoped to complete this building, Krema II, by the end of the month. [1] The forced-air drafts had just been installed, the compressed-air blowers for the cremation ovens were still being installed, the elevator would not arrive until early February, and the ventilation systems for the gas chamber would not arrive for another two weeks. [2] (Bischoff's unrealistic deadline would be later postponed to mid-February; finally, after testing, Krema II was declared operational on March 13. [3])
This memo is important because it states explicitly that cremation will be possible simultaneously with "special treatment," but only if the equipment is used in a limited fashion. "Special treatment" was the Nazi code-word for murder, in this case mass murder by gassing. It was important to the camp staff to be able to conduct both operations at once if necessary.
Transcription:
Das Krematorium kann lediglich aus lagernden, für andere Bauten bestimmten Materialien soweit fertiggestellt werden, dass eine Inbetriebsetzung frühestens am 15.2.43 erfolgen kann. Diese Inbetriebsetzung kann sich jedoch nur auf beschränkten Gebrauch der vorhandenen Maschinen erstrecken (wobei eine Verbrennung mit gleichzeitiger Sonderbehandlung möglich gemacht wird), da die zum Krematorium führende Zuleitung für dessen Leistungsverbrauch zu schwach ist. Für das hierfür erforderliche Freileitungsmaterial sind ebenfalls noch keine Eisen- und Metallscheine zugewiesen worden.
Translation:
The crematorium can be completed to this extent, only if stored materials intended for other buildings are used, so that an initial start-up can take place at the earliest by February 15, 1943. However, this initial start-up can only cover limited use of the available machines (whereby a cremation with simultaneous special treatment is made possible), since the electrical wire going to the crematorium is too weak for its power consumption. Likewise, for the necessary overhead-cable material, there were still no iron-and-metal rationing notes allocated.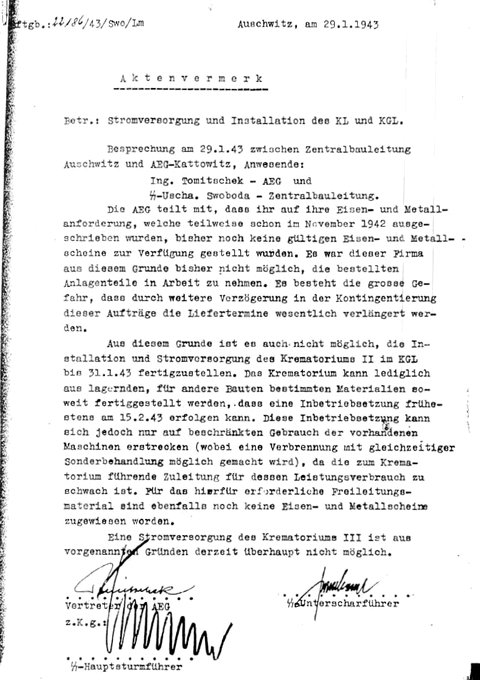 ---
This document has been provided to Dr. Daniel Keren courtesy of Professor Robert-Jan van Pelt, University of Waterloo. It can be found as "Aktenvermerk Betr: Stromversorgung und Installation des KL und KGL," in Auschwitz Archives From Moscow, File 502-1-26 Reel 20.
This document is cited in the essay How Reliable are the Hoess Memoirs?
The Holocaust-denier David Irving considers there to be "fundamental problems" with this document, and has written a letter challenging Prof. van Pelt to answer them. We are unaware of any answer from van Pelt, who presumably has better things to do; but our Jamie McCarthy offers his own answers.

Notes
1. Pressac, Jean-Claude with Robert-Jan van Pelt, "The Machinery of Mass Murder in Auschwitz," in Anatomy of the Auschwitz Death Camp, Gutman et al., Eds., 1994, p. 226.
2. Ibid, pp. 227, 229.
3. Ibid, pp. 227, 232.