Deniers less sophisticated than Rudolf have argued that hydrogen cyanide cannot kill at temperatures below its boiling point. [24] They have not understood that liquids have vapor pressure. There is an equilibrium between gas and liquid at a given temperature. This fact can be illustrated by considering humidity. It is not necessary for the temperature to be 100°C in order for there to be a significant amount of water vapor in the air. This amount of vapor can be conveniently expressed as a partial pressure, and at equilibrium this pressure is called the vapor pressure of the substance.
Hydrogen cyanide is a liquid at room temperature with an exceedingly high vapor pressure. In fact, its vapor pressure is more than high enough to kill. Some deniers have suggested at temperatures cold enough to freeze HCN that there would be no vapor or very little; they are wrong. The vapor pressure of HCN was measured for the first time in 1926 by Perry and Porter. [25] Their results are in close agreement with the accepted values as reported by DuPont. [26] They measured the vapor pressure of the liquid and the solid as a function of temperature. A plot of their results converted to ppmv is displayed below.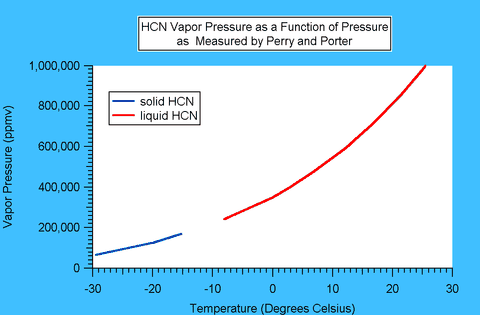 Note that even at the lowest temperatures HCN has a vapor pressure far in excess of the rapidly lethal 300-ppmv level. On this scale, 300 ppmv is far too small to show: its height above the zero line would be one-fifth the width of a human hair.
This plot shows thermodynamically that HCN can kill, but it does not address the issue of kinetics. How fast can Zyklon B kill? Is it deadly enough to kill the victims in the time periods cited by witnesses (see Rudolf's note 29)? These questions boil down to two questions: 1) what is the lethal concentration of HCN, and 2) how quickly can such a concentration be reached?
Since 300 ppmv is rapidly fatal, the first question is already answered, but let us examine this question in more depth. Rudolf implies that 300 ppmv is a limit imposed for safety reasons. Rudolf is correct that limits imposed for safety reasons are much lower than lethal concentrations. We examine here what the safe exposure limit is. DuPont's literature on the topic is enlightening:
Specific HCN air quality standards for the OSHA Short Term Exposure Limit (STEL) are 4.7 ppm, 5 mg/m3. The ACGIH Threshold Limit Value (TLV) is 10 ppm, 11 mg/m3, Time Weighted Average (TWA). This is also a ceiling value. The Du Pont Acceptable Exposure Limit (AEL) is 10 ppm-8-hour TWA, 5 ppm-12-hour TWA. [27]
OSHA is the Occupational Safety and Health Administration, which sets workplace safety guidelines for the U.S. Department of Labor.
DuPont lists furthermore the following safety thresholds:
| | | |
| --- | --- | --- |
| | | |
| 2-5 ppm | | Odor threshold |
| 4-7 ppm | | OSHA exposure limit, 15 minute time weighted average |
| 20-40 ppm | | Slight symptoms after several hours |
| 45-54 ppm | | Tolerated for 1/2 to 1 hour without significant immediate or delayed effects |
| 100-200 ppm | | Fatal within 1/2 to 1 hour |
| 300 ppm | | Rapidly fatal (if no treatment) |
One does not provide treatment to someone that one intends to kill, so for our purposes 300 ppmv is "rapidly fatal." Rudolf's implication is incorrect. Additionally, we estimate conservatively below that the victims were exposed to 450-1810 ppmv within 5 to 15 minutes. In all probability the exposure was greater than that (see below).
Rudolf is correct that these values are estimates. Du Pont makes this point explicitly:
These numbers should be considered reasonable estimates, not exact, since effects vary for different people, and data are not exact. Also, heavy breathing from physical work will increase cyanide intake and reduce the time for symptoms to show. The "rapidly fatal" exposure level of 300 ppm assumes no first aid or medical treatment. Either is very effective if used quickly.
(Emphasis Du Pont's.) How quickly is quickly?
Seconds count, and treatment should be provided within about 200 seconds (3-4 minutes).
We note that conditions (e.g., temperature, quantity of Zyklon, etc.) undoubtedly varied from gassing to gassing so it is not surprising if there is some variation in the amount of time that witnesses report for a gassing to occur. Auschwitz commandant Rudolf Höss described such variation in his memoirs. [28]
Rudolf claims that Dr. Green is unaware of the fact that toxicological data cannot be applied to the strongest people in a group. Rudolf's mind-reading abilities are not very good - of course toxicological data is based on averages - but Rudolf's analysis misses an obvious point. In a given gassing the strongest undoubtedly survived longer than the weakest. This problem could be dealt with by the simple expedient of waiting until all victims are apparently dead. This time might vary from gassing to gassing. If one gassing took 10 minutes and another 15, a witness to both who reported that it took about 10 minutes would not be lying.
Rudolf states further that
Even if a person has inhaled a lethal amount of cyanide, it might still take up to an hour until he is dead.
He leaves it as an exercise for the reader to determine what his source is or what concentration he considers lethal. Du Pont's MSDS, however, disagrees with his claim: [29]
Don't overreact. While prompt treatment is essential where poisoning has occurred, treatment of a lucid, conscious patient would rarely be necessary. The effects of cyanide poisoning are immediate, not delayed, and a conscious person that can communicate does not have significant cyanide poisoning.
(Emphasis ours.) Du Pont is, of course, discussing a situation in which one wishes to give medical attention to the person. We cannot on this basis rule out the possibility that a person might receive an "insignificant" amount of poisoning by this standard and still die later without medical attention. Nevertheless, to solve such a possible problem, it is sufficient to adjust the dose to make sure that such does not occur routinely.
A survivor of a gassing who was unconscious could be cremated along with the dead. In the extremely unlikely case that the murderers opened the doors before all were unconscious, there is no reason a bullet would not have sufficed. [30]
How fast could a lethal concentration be reached? We first review some relevant literature on the topic. The Holocaust History Project has three technical papers that address this question. All three were written in the context of the use of Zyklon B for delousing. The first work is a 70 page monograph by Gerhard Peters of the Degesch company that was published in 1933. [31] This document has not yet been transcribed or translated. The second work is a 1941 paper by Peters and Rasch. [32] This document has been transcribed and translated. The third paper is a 1942 paper by Irmscher that has also been transcribed and translated. [33]
The Chemistry of Auschwitz quotes portions of Peters' first paper that were translated by Dr. Ulrich Roessler. These portions indicate that the poison began to evaporate "with great vehemence" as soon as the tins were poured out, and that "the greatest part, nearly all" of the Zyklon B evaporated within 30 minutes.
In the second paper Rasch and Peters investigated the speed of evaporation of Zyklon at colder temperatures as well as its efficacy on insects at colder temperatures. The latter topic concerns us only in that it is worthwhile to note that delousing took much longer than homicide. Rasch and Peters found that:
The experiments, carried out in both directions yielded the unequivocal corroboration of the opinion grounded in practical observation over many years, that the efficiency of prussic acid and the suitability of the Zyklon procedure encompasses a temperature range that with certainty reaches at least 10° below zero.
They found furthermore that:
1. In all cases, the essential part of the disengagement of the gas is complete after one or at most two hours. (A control of the residues at the applicable times confirmed their complete degassing.) The evaporation of the prussic acid was therefore not significantly delayed by the low temperature.
An inspection of their data shows that concentrations begin to drop after 2 hours, which confirms their claim.
In the 1942 paper Irmscher continued the study of evaporation rate as a function of temperature. Irmscher specifies which solid supports were used for his studies (cardboard and Erco, a gypsum product) and provides a higher time resolution on the evaporation process. Irmscher studied evaporation at temperatures ranging from -18°C or -19°C up to 15°C. Excluding the lowest temperature results, Irmscher's results are in the same ballpark as those of Rasch and Peters for the most part. At -6°C, 0°C, and +15°C, Irmscher finds that within two hours 84.1%, 90.7%, 96.8% of the HCN, respectively, evaporates for the Erco support. The corresponding values for the cardboard support are 73.0%, 85.7%, 96.4% respectively. [34] The small discrepancies between these latter two papers most likely owe to differences in the support material and/or differences in humidity. Irmscher's results for -18°C show that evaporation slows substantially at this temperature.
We now examine the question of how fast a lethal concentration can be built up. In the discussion above we cited sources that put the amount of Zyklon used in the gas chambers at between 5 and 20 g/m3. These values correspond to 4500 and 18,100 ppmv respectively. Inspection of illustration 1 of the Irmscher paper shows that about 10% of the Zyklon evaporates within a period of about 5 to 15 minutes even at the coldest temperatures he studied. Irmscher did his studies at temperatures ranging from -18°C and 15°C. The gas chambers are likely to have been much warmer than the warmest temperature he studied. Human body temperature, for example, is 37°C. Even at the cold temperatures studied by Irmscher, lethal concentrations would have been reached in a few minutes (450-1810 ppmv)! Besides showing that it is not unreasonable to expect Zyklon B to kill quickly, these results also demonstrate the assumptions made about concentration in the article "Leuchter, Rudolf, and the Iron Blues" were adequate. (See Appendix 1 of that article.)
It is worth mentioning at this point an argument made by Holocaust denier Wolfgang Fröhlich.
According to eyewitness reports, the victims died very quickly. The witnesses mention time frames of 'instantaneous' to '15 minutes.' To be able to kill the gas chamber prisoners in such a short time, the Germans would have had to use large amounts of Zyklon- I estimate from 40 to 50 kilograms for each gassing. This would have made any work in the gas chamber fundamentally impossible. The special detachment [Sonderkommando] people, whom the witnesses say were assigned the task of clearing out [dead bodies] from them [the gas chambers], would have collapsed immediately upon entering the rooms, even if they were wearing gas masks. Enormous amounts of hydrocyanic acid would have streamed out into the open and would have poisoned the entire camp. [35]
Rudolf is far too clever to make such a ludicrous argument, but it is worth examining the type of denier argument advanced by those who claim that they have trumped the historians with "exact science."
What stands out in Fröhlich's argument is the large "estimate" of Zyklon necessary to kill in a short period of time. Our examination of numbers between 5 and 20 g/m3 shows that from 2.5 to 10 kg would suffice. [36]
But even Fröhlich is more accurate than the denier Carlos Whitlock Porter. After echoing the notion of poisoning the entire camp, [37] Porter outdoes Fröhlich by a factor of twenty. The estimated 40-50 kg has become "a ton of pure cyanide." [38]
These arguments are clearly ludicrous, but here we may segue into the discussion of whether the conditions employed were safe for the Sonderkommando.
Ventilation
The Sonderkommando were slave laborers: to their SS slavemasters they were expendable. The SS certainly did not have to obey OSHA regulations. They would not be averse to exposing the Sonderkommando to concentrations of approximately 40 ppmv ("slight symptoms after several hours"). Even if the full concentration of 4500 to 18,100 ppmv had released from the Zyklon into the gas chambers, it would only be necessary to reduce that concentration by a factor of 100-500 times to reach this tolerable level.
It is not the case that the full concentration of Zyklon was present. At the largest Auschwitz crematoria (II and III), the Zyklon was removed after a lethal quantity of gas was given off, using the same devices which inserted it. At these buildings, where the large majority of gassings took place, essentially any absolute rate of outgassing could be achieved, at any temperature and humidity, by pouring in sufficient Zyklon. Once the victims were dead, the remaining carrier material could be lifted out by SS men wearing gas masks, to continue outgassing harmlessly into the open air until spent.
Inspection of Irmscher's paper shows (assuming the Erco carrier) that the concentration that would be present after 30 minutes, for example, would have been 20 to 40% of the total, i.e., 900-7200 ppmv. So it was only necessary to reduce the concentration in the gas chambers by a factor of 20-200 times in order for the Sonderkommando to enter even without gas masks. The remainder of the Zyklon could outgas safely in the outside atmosphere - without, needless to say, "poisoning the entire camp."
The gas chambers were 30 m long by 7 m wide: 210 sq m. They were 2.4 m high, for a volume of 504 cu m. [39] Those same chambers had a ventilation system with both intake and exhaust fans, capable of cycling 8000 cu m through the room each hour. [40] This is commonly referred to as 8000 ÷ 504 = 15.8 "air exchanges per hour."
Note that the Holocaust-denier Carlo Mattogno has misrepresented these figures in his essay, "Auschwitz: The End of a Legend." [41]
It is impossible, of course, to get an exact figure for how long it actually took to clear the air in the gas chamber. But we can obtain approximations through mathematical modeling. The equation used is a simple one: the concentration in the gas chamber is cut to 1/e, or about 37%, for each room replacement of air. Where C(t) is the concentration of HCN at time t in hours,
C(t) = C(0) (1/e)15.8t
This equation supposes that the fresh air mixes with the air in the chamber immediately and completely. In reality it does not do so. Ventilation systems are designed to have an air flow such that the expelled air has a higher concentration of poison, so this equation might seem conservative. In addition, the victims' corpses take up space which has not been figured into any of the below calculations; this would reduce the volume and increase the replacement rate, again indicating that this figure is conservative. But blockages caused by the same corpses, and the possibility of laminar airflow, might work in the other direction. All in all, this estimate will suffice.
Using this equation, if C(0) = 900 ppmv, the concentration is less than 20 ppmv after just 15 minutes.
The American Conference of Governmental Industrial Hygienists produces an Industrial Hygiene Calculator program for the Windows operating system. [42] When the size and ventilation rates of the gas chamber are converted to cubic feet and minutes, it returns identical results to the above equation.
It should also be pointed out that, halfway through their period of use, the size of these gas chambers was cut in half: [43]
Leichenkeller I proved in the end to be too large for a gas chamber. At the end of 1943, in order to "regularize" the operation of crematoria II and III, the camp administration divided their gas chambers in two, allowing no more than 100 sq m for the killing of 1,000 new arrivals (unfit for work) in 24 hours.
If one makes the logical assumption that the intake and exhaust vents were also blocked off in the unused portion of the gas chambers, this modification doubled the ventilation rate of the remaining portion. However, we will continue to use the figures from 1943; if a gassing from 1944 is referenced, ventilation times would be cut in half.
We return to the question of how long it would take to ventilate the gas chamber from the level used in killing to a level which the Sonderkommando could safely tolerate without a gas mask. We have seen that this took place in less than 15 minutes from an initial concentration of 900 ppmv.
If the initial concentration were more than seven times higher (7200 ppmv), owing to the nature of exponential math, the same concentration of under 20 ppmv would be reached in less than 23 minutes. Even if the residual Zyklon had not been removed and the chambers had the full concentration of 18,100 ppmv, the concentration would be less than 20 ppmv in 26 minutes.
In fact, since OSHA guidelines (above) give specifications not for maximum exposure but for mean exposure over fifteen minutes, we can use these values to understand what the Sonderkommando would experience. In the graph below, an initial concentration of 900 ppmv is assumed for the solid lines. The concentration is plotted in red. In blue is plotted the mean exposure over fifteen minutes for someone entering the gas chamber at the specified time. The dashed lines show the same information assuming an initial concentration of 7,200 ppmv: [44]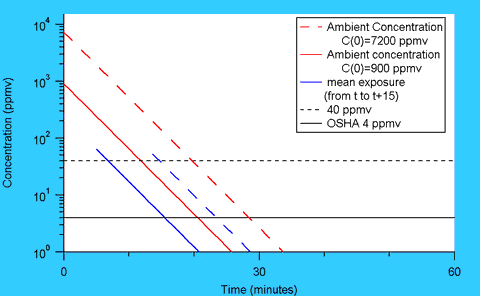 After ten minutes, in the former case, the ambient concentration was about 65 ppmv, and someone who entered the room at that point would receive a mean exposure to HCN, from t=10 minutes to t=25 minutes, of about 17 ppmv. Recall that 20 ppmv is the low end of Du Pont's symptom category: "slight symptoms after several hours."
It is thus safe to say that, with these assumptions, the Sonderkommando could enter the gas chamber ten minutes after ventilation began, wearing no gas masks, and experience no significant effects from the HCN.
If we instead assume the highest estimated initial concentration of 7,200 ppmv, the dashed lines would apply. Thus, the Sonderkommando could enter after eighteen minutes with no serious effects.
This conservative estimate fits with Pressac's conclusion that the doors were typically opened after twenty minutes of ventilation. [45]
Rudolf, however, has come to the opposite conclusion, albeit without any calculations or evidence. In his essay "The 'Gas Chambers' of Auschwitz and Majdanek," section 4.2.2.2, he cites a figure of 6 to 8 air exchanges per hour. This figure is based partially on an erroneously interpreted document from Pressac. Compounding the error are his other references: an unpublished denier source, and an unreferenced denier source both apparently claiming the ventilator would not work efficiently - no details are given.
He then writes:
Due to the poor system configuration (inlet right above outlet) and the overcrowding of the room with bodies, half an hour would never have sufficed to achieve harmless levels of hydrocyanic acid following a gassing, even if there had been no Zyklon B still releasing gas for hours on end.
His next sentence reveals the purpose of this line of argumentation: to try to prove that the eyewitness testimony is contradictory.
The eyewitness testimony claiming adequate ventilation after 20 to 30 minutes in Mortuaries I of crematoria II and III are thus not credible.
He gives no citation for his claim that the inlets are "right above" the outlets. If we understand his English, this is not exactly true: fresh air entered at ceiling level, toxic air exited at floor level. [46] Perhaps he means to consider the placement of the outside vents. If so, he would need to show that they were separated by less than 1.8 m and that such placement was quantitatively incompatible with reported ventilation times. It should be noted that a separation of only 1.8 m would suffice to prevent cross contamination. [47]
Rudolf points out that the bodies must be taken into account. His point about bodies crowding the room is not obviously wrong, but without quantification it is a meaningless argument. In fact, such crowding might produce mixing through turbulence, making the ventilation efficiency tend toward the limits that we have calculated. He claims (for crematory I) the difference will be "a factor of 10 or more" yielding a ventilation time minimum of "2 hours" - but provides no basis for these numbers. He appears to have pulled them out of thin air.
We show above that testimonies "claiming adequate ventilation after 20 to 30 minutes" are extremely credible - using a mathematical model known to be conservative, that is, to have room for error. Rudolf, on the other hand, produces only unsupported assertions that take no account of how large a reduction in the HCN concentration is necessary.
We should not let drop the subject of Rudolf's analysis without mentioning a turn of phrase which is suspiciously misleading. Rudolf gives a probabilistic explanation of the same mathematical model we are using to estimate dilution. In his description, balls take the place of air molecules:
Imagine, if you will, that someone is given a bucket containing 100 blue balls. Each time he reaches into the bucket, he puts in one red ball, briefly mixes the contents and, without looking, takes out one randomly selected ball. How often will he have to do this until only 50 blue balls are left in the bucket and all the others are red? [...] In the case described above, it takes an average of 70 exchanges before half the blue balls have been replaced by red ones.
This model is the same as have described in our formula above. In Rudolf's example a single room exchange of air would be equivalent to 100 "exchanges."
Rudolf's next sentence seems designed to seriously misinform the reader:
Calculations have shown that the ventilation facilities in the alleged gas chambers of Crematoria II and III in Birkenau - facilities designed only for ventilation of ordinary mortuaries - could have performed at most 6 to 8 air exchanges per hour.
By using the same word "exchange" in two contexts he can give the impression that ventilation occurs very slowly. What he calls an "air exchange" in the second paragraph corresponds to 100 of his "exchanges" from the first, though he nowhere makes this clear. It seems the reader is expected to believe that it would take ten hours before the level of poison was cut in half; certainly Rudolf does nothing to dispel this notion. Rudolf is not unintelligent nor sloppy: his dual use of the word "exchange" is surely not a mistake. We presume it is an intentional deception.
The math is easy to do. Why does Rudolf not demonstrate it for his reader? We suspect, first, because even at his inaccurate figure of only 6-8 exchanges per hour the results do not support his conclusion. Below, we replot the data assuming 8 exchanges per hour: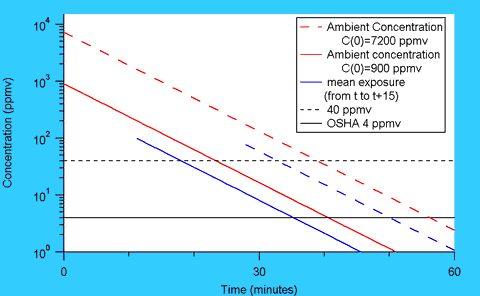 The time before it was safe for the Sonderkommando to enter the gas chamber without a mask and with no ill effects ranges from 20 to 40 minutes, again within a range that does not contradict testimony.
But Rudolf is not done. Because even the incorrect figure of 6 to 8 exchanges per hour would produce times within a reasonable range, he must reduce that figure further. In the Rudolf Report, there are two deliberate and mendacious distortions which accomplish this goal.
Firstly, Rudolf cites Pressac in support of the figure of four air exchanges per hour. In section 3.4.2.4 of his Report, he writes: [48]
Given the facts presented in section 1.3.1 regarding the installations for aeration of Leichenkeller 1 (the "gas chamber"), a single change of air in crematoria II and III should have lasted some 15 minutes (see also 3.4.1 and footnotes 60 and 256).

Unter den Gegebenheiten der im Abschnitt 1.3.1. vorgestellten Anlagen zur Entlüftung der Leichenkeller I ('Gaskammer') der Krematorien II und III soll ein einmaliger Luftwechsel etwa 15 min. gedauert haben (siehe auch 3.4.1., und [60,256]).
Nowhere in section 1.3.1 does Rudolf provide the source for this figure of 15 minutes. Section 3.4.1 is equally unhelpful, being a look at eyewitness testimony. Footnote 60 refers to a chapter of Pressac's book Technique and Operation. Only in footnote 256 do we finally get the source of this all-important number: Pressac's page 16 is cited.
On that page, Pressac tells us:
...Force-draught ventilation would be relatively efficient in these circumstances. After 15 minutes of ventilation the air in the room would be completely renewed. A homicidal gassing (using 5 to 7 kg of Zyklon B for 1 000 to 2 000 persons) would last about 20 minutes: 5 minutes for the action of the HCN bringing swift death (the quantity introduced being 40 times the lethal dose) and 15 minutes of ventilation BEFORE BEING ABLE TO OPEN THE GAS-TIGHT DOOR....
(Emphasis in original.)
Pressac gave 15 minutes as the duration before the air was renewed so thoroughly that the doors could be opened. As we have seen above, this fits with our calculations, because almost four air exchanges would have taken place after that duration. Rudolf has fraudulently taken this to be the time period for one air exchange.
Secondly, Rudolf then further slows the ventilation process, arbitrarily, until he arrives at a number he likes. He writes in fractured German:
An exchange predominantly of new gas (outlet near inlet), old gas range partially not understood: ventilation time a multiple of that described above. This would have certainly resulted in our example of the gas in the space between the bodies, since here a mixture of the gas hardly takes place. In addition, because of the unfavorably near grouping of the air inlets to the air outlets, there is a partial exchange of new gas (air short circuit). Through this the ventilation time is raised by a factor of 2 to 4 or more.

Austausch überwiegend von Neugas (Auslaß nahe Einlaß), Altgasbereiche z.T. nicht erfaßt: Lüftungszeit ein Vielfaches der oben beschriebenen. Dies wäre in unserem Fall mit Sicherheit für den Gaszwischenraum der Leichen gegeben, da hier eine Vermischung der Gase kaum stattfindet. Zusätzlich ergibt sich durch die ungünstig nahe Anordnung der Lufteinlässe zu den Luftauslässen ein teilweiser Austausch von Neugas (Luftkurzschluß). Dadurch erhöht sich die Lüftungszeit um den Faktor 2 bis 4 oder mehr.
The number "2 to 4," which in his Table 10 becomes simply "4," has been pulled out of a hat. Since his already-fraudulent figures do not support his claims, he calls them "ideal," and simply multiplies the numbers by four to get the "real."
Thus it is that, by following one dishonest maneuver with another, Rudolf converts a respectable air-exchange rate of 15.8 per hour into precisely one per hour. This multiplies the supposed ventilation times by the same amount, so that a reasonable calculation of 15 to 20 minutes turns into:
It would only be after 4 to 5 hours that one could step safely into the chamber.

Danach wäre erst nach 4 bis 5 Stunden ein sicheres Betreten der Kammern möglich.
To discover the real values, one must simply divide Rudolf's durations by 15.8.
Finally - this question of ventilation is purely academic anyway. The Sonderkommando had gas masks available and wore them at least some of the time, as numerous witnesses have attested. The duration of ventilation before the doors were opened is only of interest to those Sonderkommando who wished to remove their gas masks after, say, fifteen minutes instead of twenty. The prisoner Dr. Nyiszli describes the scene: [49]
An SS officer and a SDG (Sanitätsdienstgefreiter: Deputy Health Service Officer) stepped out of the car. The Deputy Health Officer held four green sheet-iron canisters. He advanced across the grass, where every thirty yards, short concrete pipes jutted up from the ground. Having donned his gas mask, he lifted the lid of the pipe, which was also made of concrete. He opened one of the cans and poured the contents - a mauve granulated material - into the opening. The granulated substance fell in a lump to the bottom. The gas it produced escaped through the perforations, and within a few seconds filled the room in which the deportees were stacked. Within five minutes everybody was dead. [...]

In order to be certain of their business the two gas-butchers waited another five minutes. Then they lighted cigarettes and drove off in their car. [...]

The ventilators, patented "Exhator" system, quickly evacuated the gas from the room, but in the crannies between the dead and the cracks of the doors small pockets of it always remained. Even two hours later it caused a suffocating cough. For that reason the Sonderkommando group which first moved into the room was equipped with gas masks. Once again the room was powerfully lighted, revealing a horrible spectacle.
(The cough was surely caused by the Zyklon warning indicator, a lachrymatory irritant. For safety reasons, the warning was designed to be noticeable even at low levels of cyanide. Eyewitnesses untrained in handling of Zyklon would probably not know this. Although there were some shipments of Zyklon without the warning agent, the use of such Zyklon was not universal.)
Gas masks are also referenced by Szlama Dragon at a gas chamber which lacked ventilation: [50]
I myself and eleven others were detailed, as we learnt later, to remove the bodies from this cottage. We were given gas masks, and led to the cottage. When Moll had opened the door, we saw that the cottage was full of naked corpses of both sexes and of all ages.
So why is ventilation time a concern at all? Deniers usually reference Höss' memoirs, which mention that the Sonderkommando ate or smoked while they worked (thus, without gas masks). [51] But Höss did not specify that this took place inside near the gas chamber, nor that this took place shortly after ventilation began, so there is no contradiction.
Although gassing and ventilation together lasted somewhat under an hour, it is the act of burning the corpses which took the most time. One thousand people could be killed in five to fifteen minutes. To cremate their bodies, the Sonderkommando would work the better part of a day. Höss was probably referring to activity he saw well after the gassing operation was complete and the chamber thoroughly ventilated, when gas masks were no longer necessary.
Rudolf has researched the characteristics of gas masks. [52] Assuming for the sake of argument that he is not misrepresenting his sources, they indicate that the German HCN-type removable filter would provide protection for 25 minutes at 50,000 ppmv. Rudolf tries to find reasons to reduce that time period, but as we have shown, even a full outgassing (in, for example, the unventilated gas chambers) needed only release 4500 to 18,100 ppmv. And if the filter ran out after 25 minutes, the Sonderkommando could step outside and change it (Rudolf fails to mention this obvious possibility).
Another point he raises is that of poisoning through the skin. It seems this would not have been a serious danger for the Sonderkommando. Until Rudolf is able to show any quantification for this, it can be ignored. [53]
To summarize, these are the worst-case ventilation assumptions for the main Auschwitz gas chambers, in crematoria II and III:
the largest amount of Zyklon used (sufficient for 20 g/m3 at full outgassing);
a thorough outgassing period of 30 minutes (probably longer than was typically used);
a fast outgassing (40% during that time);
a conservative estimation of ventilation efficiency;
and a date in 1943, when the gas chamber was twice as large as 1944.
Using those assumptions, the Sonderkommando could remove their gas masks after just 18 minutes and suffer no significant effects (beyond a cough caused by the nontoxic Zyklon irritant). If they were to wait just 24 minutes, their workplace would conform even to OSHA regulations.
But OSHA, of course, does not publish regulations that apply to slave labor incineration of hundreds of freshly murdered corpses.
If Rudolf wishes to show some sort of logical impossibility, he will first have to find some testimony, considered reliable by historians, dated in 1943 before the halving of the gas chamber's size, which states that gas masks were removed in the gas chamber after only a short time. To our knowledge, there is no testimony which addresses how long the Sonderkommando waited before taking off their gas masks to work in the still-ventilating gas chamber.
Next, if Rudolf wishes to contest the mathematical model, he will have to present some hard evidence for his reasoning regarding ventilation efficiency, and he will have to work out the numbers.
Rudolf will have to meet all these conditions before he can show a contradiction. But he has met none of them. Without evidence indicating why the model is flawed, without having worked out the numbers, and without a single eyewitness giving different numbers regarding the duration before gas-mask removal, his "expert opinion" remains of no value. We have not seen even the ghost of a contradiction.