The Jaeger Report: A Chronicle of Nazi Mass Murder:
One Unit, One Area, Five Months - and 137,000 Victims
Prepared by Daniel Keren
With an Introduction by Yale Edeiken
Transcription by Albrecht Kolthoff
Translation by Gord McFee
---
THHP presents scans of the Jaeger Report along with a German transcription and English translation. The Report itself can be accessed in the following pages. First we present some context and a historical introduction. After his arrest by the German Police, the former SS-Standartenfuehrer Karl Jaeger defended himself by stating:

"I was always a person with a heightened sense of duty"

('"The Good Old Days'" , E. Klee, W. Dressen, V. Riess, The Free Press, NY, 1988, p. 57. See p. 46-58 for the complete report in English.)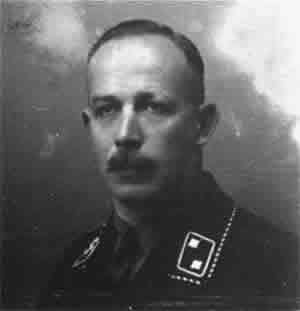 SS-Standartenfuehrer Karl Jaeger, who commanded the murder spree of Einsatzkommando 3. Since Jaeger was born in 1888, it appears that this photograph was most probably taken before the Second World War. Source: "Encyclopedia of the Holocaust", Edited by Israel Gutman, Macmillan Publishing Company, Vol. 2, p. 733.
Among all Nazi documents detailing dastardly acts of mass murder and other atrocities, the "Jaeger Report" is one of the most horrifying.

Written by SS-Standartenfuehrer (Colonel) Karl Jaeger, commander of one of the "Einsatzkommandos" (EK 3), it provides a very detailed account of the murderous rampage of this "special squad" in Nazi-occupied USSR. Usually, the figures for Jews who were murdered by EK 3 are broken into "Jewish men", "Jewish women", and "Jewish children".

The report commences with:
"Secret Reich Business! 5 copies
Complete list of executions carried out in the
EK 3 area up to 1 December 1941."
And goes on to list the daily numbers of the victims; some typical entries are (see the sixth page):


20.9.41 in Nemencing
128 Jews, 176 Jewesses, 99 Jewish children

22.9.41 in Novo-Wilejka
468 Jews, 495 Jewesses, 196 Jewish children

24.9.41 in Riess
512 Jews, 744 Jewesses, 511 Jewish children

25.9.41 in Jahiunai
215 Jews, 229 Jewesses, 131 Jewish children

27.9.41 in Eysisky
989 Jews, 1,636 Jewesses, 821 Jewish children
During the five months covered by the report, EK 3 murdered over 130,000 people (see total at the bottom of sixth page); about a third of them were listed by Jaeger as "Jewish children". Some other categories of people deemed by the Nazis "unfit for life" are also listed; for instance, on September 1, in Mariampole, Jaeger's unit murdered 109 mentally sick people, in addition to 1,763 Jews, 1,812 Jewesses, 1,404 Jewish children, one German woman who was married to a Jew, and one Russian woman (see bottom of third page).

This report makes it clear that the Nazis were not "fighting partisans", as various Nazi-apologists claim. Jaeger flatly describes how the victims were rounded up, taken into secluded areas, and shot - men, women, and children:


"Depending on the number of Jews a place for the graves had to be found and then the graves dug. The distance from the assembly point to the graves was on average 4 to 5 Km. The Jews were transported in detachments of 500 to the execution area, with a distance of at least 2 Km between them." (see seventh page, second paragraph from below).


Those who were spared for slave labor were not to survive either; Jaeger writes (see eighth page, second paragraph from below, ending with "liquidieren"):
"These working Jews and Jewesses still available are needed urgently and I can envisage that after the winter this workforce will be required even more urgently. I am of the view that the sterilization program of the male worker Jews should be started immediately so that reproduction is prevented. If despite sterilization a Jewess becomes pregnant she will be liquidated."
Translation to follow. Meanwhile,for the full text in English, see the excellent book '"The Good Old Days'" , E. Klee, W. Dressen, V. Riess, The Free Press, NY, 1988, p. 46-58.